Amplify your business proficiency with our analytical tools and solutions

We improve Analytical Capabilities for our clients

Leveraging Knowledge, Experience and Technology to yield Augmented Results
ICRA Analytics Ltd
(formerly known as ICRA Online Ltd), a wholly owned subsidiary of ICRA Ltd, provides solutions, analytics and digital platforms for risk management, market data, consulting, grading services and knowledge services.
ICRA Analytics Ltd is the amalgamated entity of ICRA Online Ltd and ICRA Management Consulting Services Ltd, both wholly-owned subsidiaries of ICRA Ltd.
We have more than 20 years of experience in designing, advising and implementing solutions as well as providing content and services for a wide repertoire of domestic and global clients across diverse sectors.
We add value by leveraging domain expertise in diverse sectors, functional competence in multiple areas, skills in technology and analytics along with a process orientation and strong Infosec controls. We are an
ISO 9001:2015
and
ISO 27001:2013
certified company.
Read More
OUR Offerings
ICRA Analytics offers a wide range of products, services and solutions, across Risk Management, Market Data, Consulting, Grading services and Knowledge Services.
01
Risk Management
Read More
04
Grading Services
Read More
05
Knowledge Services
Read More
We Serve
Global and Domestic Client Segments
Risk Management Solutions
Risk Management Solutions
Banks
Non-banking Finance Companies
Housing Finance Companies
Development Finance Institutions
Market Data for Investors & Intermediaries
Market Data for
Investors & Intermediaries
Corporate Treasuries
Brokerages
Wealth Managers & IFAs
Market Data for Fund Managers
Market Data for Fund Managers
Mutual Funds
Pension Funds
Insurance
AIFs
Grading Services
Grading Services
Solar Grading
Energy Service Companies (ESCO) Grading
Education Institute Grading
Counter-party Risk Grading
Vendor Grading / Dealer Due Diligence
Consulting & Knowledge Services
Consulting &
Knowledge Services
Corporates
IPP, Power and Gas Transmission Utilities, Power Generation & DISCOMs
Electricity Regulators
Multi-lateral bodies
Government organizations
Industry associations
Our Corporate Journey
ICRA Ltd, is currently a public listed company with shares listed on NSE and BSE and Moody's Investor Service as its largest shareholder
ICRA is set up by leading financial / investment institutions, commercial banks, etc*
ICRA Advisory Services, is set up as a division of ICRA, to provide risk management solutions & consulting services
ICRA acquires Online India Capital Ltd & sets up as a wholly-owned subsidiary, ICRA Online Ltd (ICRON) to provide market data and knowledge services
ICRA Advisory Services, is demerged into a wholly-owned subsidiary, ICRA Management Consulting Services Ltd (IMaCS)
IMACS sets up PragatiDevelopment Consulting Services Ltd, to provide consulting services to the development sector
IMaCS amalgamated into and with ICRON to leverage synergies and serve customers better
Name of the amalgamated entity changed to ICRA Analytics Ltd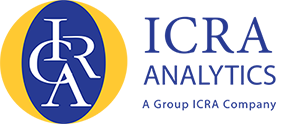 Expected Credit Loss Software
ICRA Analytics launches cloud-hosted IFRS 9 compliant ECL computation tool for banks, NBFCs and corporates.
MFI360 Research
ICRA Analytics launches cloud-hosted MFI360 Research tool with incisive 30+ reports on mutual fund performance
MFI360 Tracker
ICRA Analytics launches cloud-hosted MFI360 Tracker platform for Financial Products Distributors, Wealth Managers and Independent Financial Advisors.
RATING TRACKER
Cloud-based credit rating tracker tool. Facilitates fixed income research. Used by AMCs, distributors, banks, wealth managers, corporate treasuries etc. Provides near real time update of upgrades/downgrades/reaffirmations (rating actions updated within 3hrs of announcement) to aid timely decision making.
Internal Rating Model
A web-based Credit Risk Management tool aligned with the Basel II guidelines for Credit Risk Rating and capital computation that enables Centralised Loan Application Data Management, Appraisal and Approval supported by Automated Workflow, Risk Based Pricing and Portfolio Management.
MFI Explorer
MFI Explorer, a mutual fund analysis tool, addresses complete research and analysis requirement for both fund advisory and fund management industry. The desktop application is powered by the most comprehensive and authentic industry data.
MFI Insurance Explorer
MFI Insurance Explorer is a desktop based analytical tool for life insurance which comes bundled with a comprehensive industry data from ICRA Analytics.
MFI Portfolio Tracker
MFI Portfolio Tracker helps wealth managers keep a close track on their client's investment portfolio under their management. Your relationship managers can create client profiles along with all the family or group members.